Hi:
recently I have acquired an OPENIMU300RI. I am evaluating the possibility to measure the pitch/yaw/roll angles of the nacelle of a Wind Turbine.
I have connected it to an external power supply (13V, 0.5A). I have imported examples from ACEINNA extension (Visual Studio code) and uploaded to the sensor with no errors. Everything seems to work properly.
I have connected the RS-232 output port to a db9 RS-232 (male)-USB cable and it has been impossible to detect the IMU unit. I have used the .exe pyton server (Server_Win32 1.0.5.exe). Ths RS-232 to USB cable includes a driver and the computer detects properly the COM port.
I have tried in different computers (one with Windows 7 and another one with Windows 10). And was impossible to connect.
WIN 7:
This is the error message: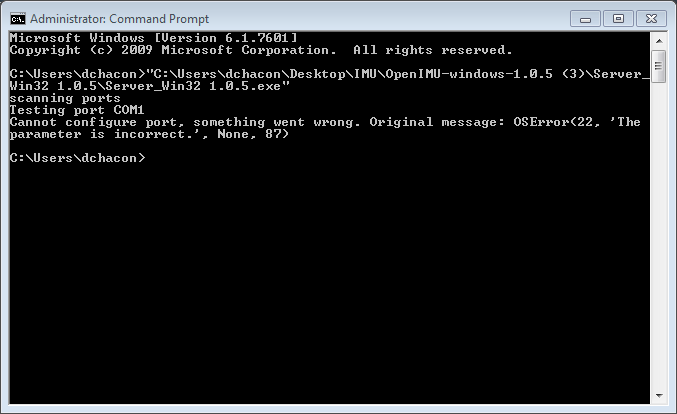 meanwhile in WIN10 the software does not give an error (but the app gets frozen testing port COM1).
I have tried changing the baud rates etc and always I see the same error. Also I have tried to change the USB port, update drivers etc.
The DB9 to USB wire I use is (https://www.ebay.es/itm/Cable-Adaptador-De-Usb-A-Puerto-Serie-Db9-Rs-232-0-8-m-USB-Conversor-Adapter-232/351583039053?hash=item51dbfb6e4d:g:fsMAAOSw8f9b4UEb)
Thanks in advance.